In-country protection measures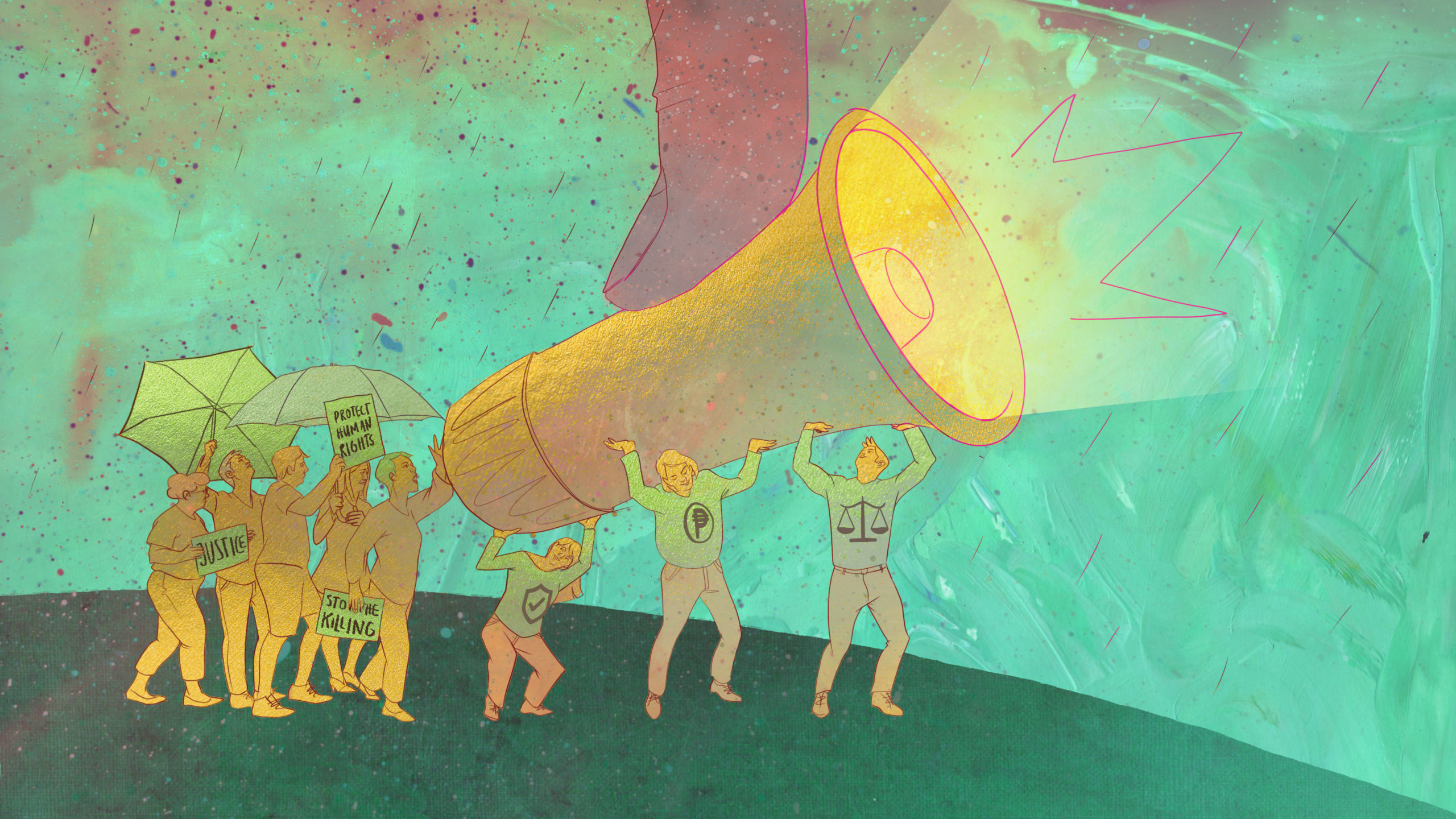 The in-country protection measures consist of programs that provide financial support to increase the physical security of the HRD, to respond to work related health emergencies or to legal or psychosocial necessities while the HRD remains in the Philippines. It also includes political support through government programs (e.g. Parliamentarians protect Parliamentarians).
European Parliament: Solidarity with Parliamentarians
Organization: European Parliament
Special Focus: Parliamentarians
This system supplies a twin partnership between members of the European Parliament (MEPs) and different members of parliament around the globe. MEPs can support threatened members of parliament around the globe through public activities or diplomacy. The criteria are: elected members of parliament, threatened (threats, harassment, unlawful withdrawal of mandate, violence), advocate of universal human rights (no advocacy against women, LGBTQI or minorities).
For more information, please visit:
Solidarity with Parliamentarians
Fidh: Grant application for human rights defenders at risk
Organization: International Federation for Human Rights (fidh)
Focus: Human rights defenders
fidh, under the Observatory for the Protection of Human rights Defenders, provides emergency material support to at risk human rights defenders working in the most difficult circumstances.
Costs eligible for financial support or direct material support include the following: physical security, digital security, communications, capacity building in security, secure transportation, legal support, medical support (including psycho-social support and rehabilitation), humanitarian assistance (including family support), urgent relocation, urgent monitoring, reporting or advocacy).
Any human rights defender or organisation who is facing risks because of her:his human rights work and needs emergency support may send an application for an emergency grant to: C1@fidh.org
For more information, please visit:
Front Line Defenders: Protection Grants
Organization: Front Line Defenders
Focus: Human rights defenders
In 2001 Front Line Defenders launched its Protection Grants programme, to provide rapid and practical financial support to human rights defenders at risk. Protection Grants can pay for provisions to improve the security and protection of human rights defenders and their organisations including, but not limited to:
improving physical security of an organisation or individual, digital security and communication security;
supporting legal fees for HRDs who are being judicially harassed;
paying for medical fees for HRDs who have been attacked or who have suffered a medical condition as a result of their peaceful human rights activities;
providing family assistance for imprisoned HRDs or family members who are at risk because of a HRD's activities.
Grants are for amounts up to a maximum of €7,500. Application can be filled out online. Front Line Defenders belongs to the consortium of organizations that partners with ProtectDefenders.eu in the delivery of emergency grants programmes. An application submitted to ProtectDefenders.eu will reach a larger number of organizations than applications submitted to individual organizations. Application for emergency grants with ProtectDefenders.eu can be filled up online too.
Front Line Defenders also partners with Freedom House in the delivery of the emergency grant assistance programme for Civil Society Organizations (CSOs) of Lifeline. Lifeline is a consortium of seven international NGOs (Civicus, International Center for Non-for-Profit Law/ ICNL, Forum Asia, Freedom House, Front Line Defenders, People in Need/ PIN, Swedish International Liberal Center/ SILC), and 12 governments. Applications can be filled out online via Front Line Defenders.
For more information, please visit:
Front Line Defenders: Protection Grants 
Lifeline: Emergency Assistance 
ProtectDefenders.eu: Practical support for defenders at risk
German Parliament: Parliamentarians protect Parliamentarians
Organization: German Bundestag
Special Focus: Parliamentarians and human rights defenders
The basic idea is that Members of the German Bundestag, who can carry out their work in safety, should help fellow parliamentarians who are at risk in other countries and persecuted human rights defenders. Members of the Bundestag have a network of international contacts which they can use on behalf of fellow parliamentarians who are at risk.
The motion on the protection of threatened human rights defenders proposes various options for action: (1) Drawing attention, both in Germany and abroad, to threatened and detained human rights defenders in talks with political decision-makers and in letters of petition, urging that they be protected or re-leased; (2) Paying tribute to the commitment of human rights defenders when abroad – where possible – by meeting them in person for a discussion, visiting them in prison, pressing for them to be given a fair trial, or observing court proceedings; (3) Looking into whether threatened fellow parliamentarians can be "adopted" and supported.
Download (PDF): Flyer "Parliamentarians Protect Parliamentarians"
For more information on active cases, please visit:
Programm "Parlamentarier schützen Parlamentarier" (German)
IDEALS: Tisya Hustisya
Organization: IDEALS Lawyering for Development
Special Focus: None
Tisya Hustisya is a Human Rights chatbot and an initiative of IDEALS Inc., established to address the lack or limited access of legal services for Filipinos. Along with giving free legal consultations to indigent communities, this project aims to reach out to more Filipinos and respond to their legal needs, alongside introducing and explaining to Filipinos their rights.
Tisya Hustisya was adapted from dedicated lawyers and valiant volunteers from different communities. They are reliable when it comes to talking about laws and human rights, and they are ready to coordinate with you because they believe that cooperation among the people will give way to a better and more compassionate society.
The program was initiatially launched in June 2020 as a response to the Covid-19 pandemic.
The Tisya Hustisya chatbot is a computer program designed to stimulate conversation with human users over Facebook messenger. Filipino users simply send a message through the Tisya Hustisya Facebook page messenger and then they can choose among three options: COVID-19, Gov't Hotline and Magtanong sa Abogado. When there is a need to talk to an actual person, specifically a member of the legal team of IDEALS, the user may simply click Magtanong sa Abogado. After a series of answered inquiries, the user will be able to talk to one of the lawyers.
The information on the homepage and facebook page of Tisya Hustisya are in Tagalog.
For more information, please visit:
Tisya Hustisya (Homepage)
Prisoners of Conscience: Hardship Relief for Prisoners of Conscience
Organization: Prisoners of Conscience
Special Focus: None
The Fund makes grants to individuals (and/or their families) who are prisoners of conscience.  The definition of this is those who have suffered persecution for their conscientiously beliefs, provided they have not used or advocated violence or supported a violent organisation or have willingly served in the armed forces. The fact that the applicant is seeking asylum or has been a victim of a civil war is not in itself sufficient. A degree of personal persecution has to be established.
A recognised/approved agency should make the application on behalf of the individual or family.
The purpose of the grants can include:
Basic essentials such as food, clothing, toiletries and travel costs.
Basic furniture.
Counselling/Therapy sessions.
Medical needs.
Applications for Hardship Relief Grants can be send to grants@prisonersofconscience.org
Another financial assistance can be availed through Family Reunion Grants that apply to Prisoners of Conscience that have sought asylum in the UK and seek reunification with their family members. More information can be accessed here.
Organizations/ Agencies that wish to endorse a client can register here.
For more information, please visit:
Prisoners of Conscience Application Guidelines
UAF: Rapid Response Grants
Organization: Urgent Action Fund for Women's Human Rights Asia & Pacific (UAF A&P)
Special Focus: women and non-binary activists
UAF A&P offers funding to women and non-binary activists, their families and their organisations in times of crisis. We offer two kinds of grants. A security and well-being grant is for those who need urgent funding to ensure safety from physical or emotional harm. It is intended for a person or organisation experiencing a threat or in case of emergency, crisis or risk due to their defence of women's rights and human rights. It is also available for time-urgent needs for well-being such as psycho-social counselling, treatment for trauma, or medical assistance.
A resourcing resilience grant is for those who seek to prepare for threats, and those who need to respond to a critical issue or opportunity in the next 3-6 months. This grant is available to women and non-binary human rights defenders and organisations in Asia and the Pacific who – on their own or in collaboration with others – seek to implement an initiative or respond to an unanticipated opportunity that would contribute to the resilience of women's human rights and human rights activism and movements.
Grants are available up to $5000 USD. Subsequent applications from the same defender or organisation will be considered on a case-by-case basis. The endorsement by an organization, established community or network affiliation, or by a UAF A&P advisor is obligatory.
Applications can be accessed online.
For more information, please visit: